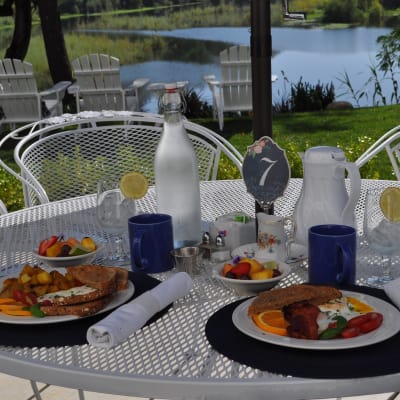 RBI's "Triple Dubs Breakfast" ...... go warriors!
Farm to Table ...... homemade / scumptous /delicious!
River Belle Inn's highly acclaimed "Triple Dubs Breakfast" , ( go warriors!), just recently was ranked #4 in all of both the Napa and Sonoma County by Fodor's Travel Magazine with farm-to-table offerings daily.
Our exclusive "Triple Dubs Breakfast" ...... answers the "(W)hat, (W)hen, and (W)here" for the start of your day!
You tell us...
"what" you want to eat (from our delightful menu)....
"where" you want to eat (in your room, the Belle's formal Dining Room, the River Room, the Inn's expansive covered porch, or along the river front in the outdoor gardens)....
and "when", (breakfast is served daily 8 - 10).
Our locally sourced and organic breakfast menu is bound to start your day off right.
Whether you are overlooking the river from the River Room / River Patio or enjoying your meal in your room, you'll love our breakfasts!
*We are happy to work with your dietary restrictions. If you have any special requests for breakfast please contact the front desk so we can accommodate your reservation.
One of our rotating current menus of delight!
Menu :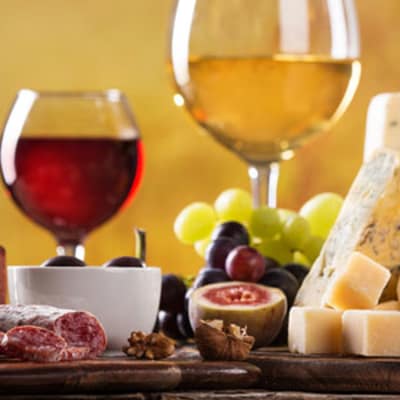 The "Belle's Happiest Hour(s)"
Daily Happy Hour(s) :
Featuring local wines (special local winery pourings)
Creative seasonal small bites, appetizers, local cheeses/crackers.
.... tired of drinking wine all day?
Try our:
Exclusive RBI microbrews beers on tap, (special brews for the RBI from our favorite "CraziEd Brews" of Half Moon Bay)
or our
"Belle's" Lemon or Orange iced water
All this served daily on the main floor in Kelly's wine parlour and beer pub or River Room from 5pm – 6pm, (ish)
*Subject to change. Inquire at front desk for details.